Samstag, 13. Mai 2017 | 19.30 Uhr | Altes Sportamt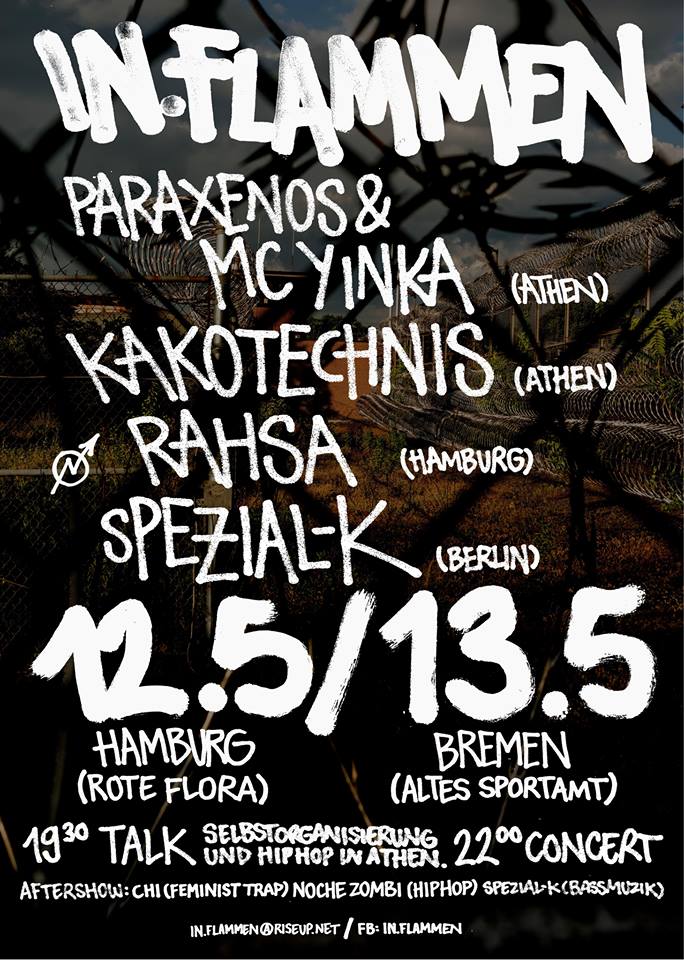 The 3rd In.Flammen will take place at Altes Sportamt in Bremen/Germany! At the event on 13rd May we will start with a dinner at 19h. At 19.30h Kakotechnis from the hip hop collective Hit & Rap and the political cultural group Antifa Live will talk about self-organizing and DIY hip hop in Athens. Afterwards concert with Spezial-K (Berlin), ????????? & Mc Yinka (Athens), RAHSA (Hamburg) and Kakotechnis (Athens). DJs: Chi (Feminist Rap/Trap/Bass) and Spezial-K (Bassmuzik).
With the event we raise money to support the autonomous power supply of the squat Papoutsadiko in Athens.
IN.FLAMMEN is building up a political Hip Hop network between Greece and Germany. We focus on self-organizing, social struggles and solidarity. We love Hip Hop culture but for us, Hip Hop is also a weapon for the fights against the misery of everyday life. It is a way, that brings us together beyond national borders and languages.
We will meet each other to share, to discuss our ways of fighting, to agree and disagree, to learn from each other, to exchange ideas. Our goal is to work together more closely to organize our resistance in a better way. This will also make us stronger as a community because we will create a collective knowledge. We will exchange our experiences in a creative way and build relationships on solidarity and mutual respect.
We want to strengthen the D.I.Y. hip hop movement because we think that revolutionary music cannot work within a music industry that is based on capitalist structures. One way or another, the day will come when we have to decide where we want to go. So let us decide now!
Our first steps will be events that will include concerts with political rap artists from Greece and Germany as well as talks and discussions with collectives and activists. We focus on issues in which we can find a common ground and which bother us in our everyday lifes. The events will take place over the weekend in Hamburg and Bremen, in Germany.
However, we are open to anyone who would like to organize such an event in another city (or country).
We are starting with Greece and Germany because of the connections we already have. However, those connections have not come up accidentely. They have emerged from anti-capitalist and anti-authoritarian struggles as well as from the need of self-organizing and revolutionary hip hop in both of the countries. Our plan is to open our network to other places in future.